Atari ST | Hardware Measurements
I was having a hard time finding actual dimensions for Atari ST hardware, so I decided to measure and post for those who may also need the info. Also, check out my sweet art setup at work. (I am owner of the business, I get away with these things sometimes).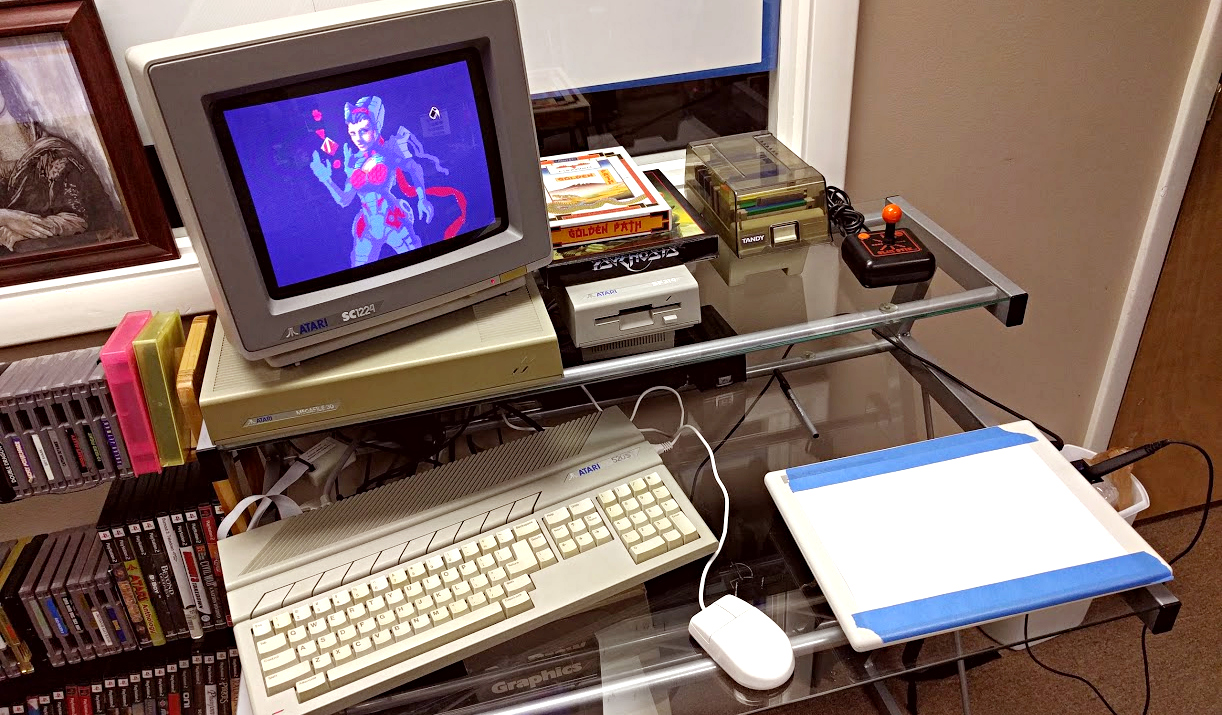 Keep in mind that the dimensions for the given pieces of hardware are not consistent throughout, due to various slopes and curves that make up the overall design and look of the hardware. These are box dimensions that would cover the entirety of the form of the hardware.
SC1224 Color Atari ST Monitor
12.75 in. Wide X 14 in. Deep X 11.75 in. Tall
Metric
32.385 cm Wide X 35.56 cm Deep X 29.845 cm Tall
SM124 Monochrome Atari ST Monitor
12.75 in. Wide X 12 in. Deep X 11 in. Tall
Mertric
32.385 cm Wide X 30.48 cm Deep X 27.94 cm Tall
520ST CPU (no internal disk drive)
18.5 in. Wide X 9.875 in. Deep X 2.875 in. Tall
Metric
46.99 cm Wide X 25.083 cm Deep X 7.303 cm Tall
Atari ST SF354 Disk drive
5.5 in. Wide X 9.875 in. Deep X 2.875 in. Tall
Metric
13.97 cm Wide X 25.083 cm Deep X 7.303 cm Tall
Standard Atari ST Mouse
2.937 in. Wide X 3.812 in. Deep X 1.25 in Tall
Metric
7.45 cm Wide X 9.682 cm Deep X 3.175 in Tall