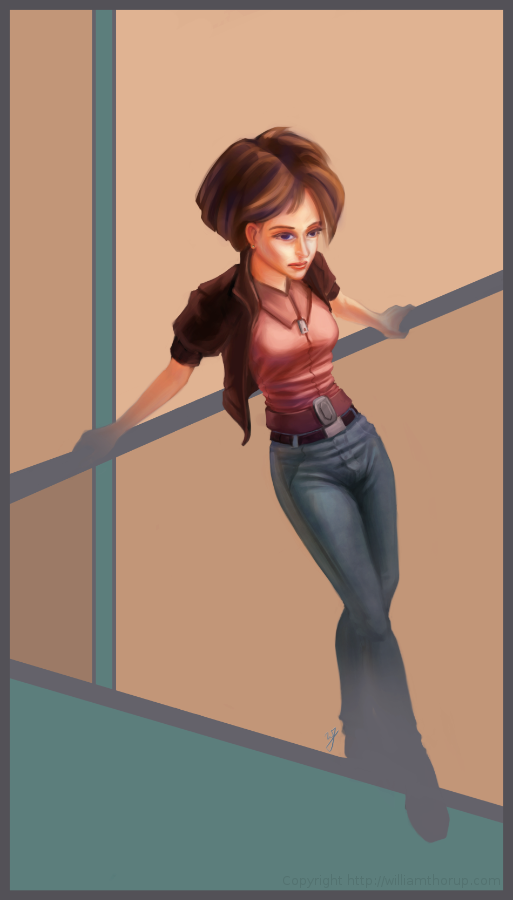 Illustration | On the Rail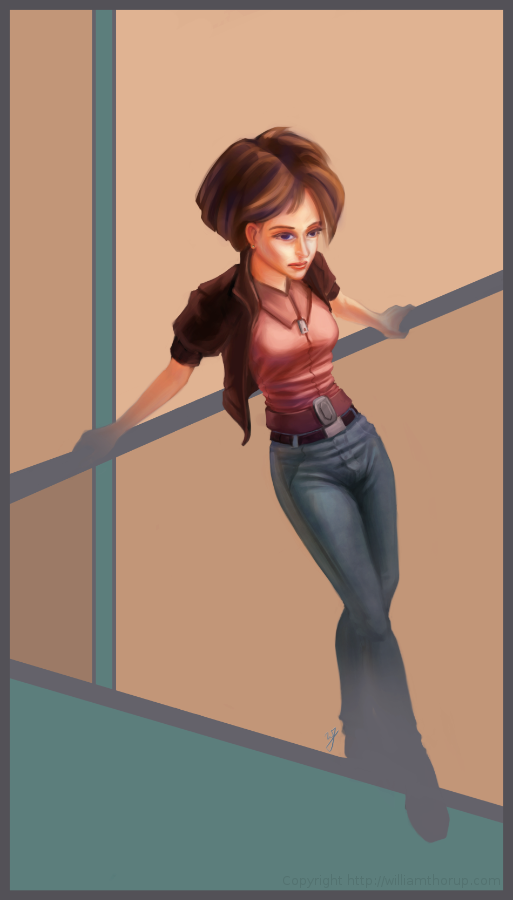 The last few weeks I have been trying to reach outside of my box a little.  Been reading allot about visual style, and developing a visual style as an artist.
The 16-bit portrait I did earlier, and this piece have been practice in what I am reading.  and it has been fun so far.
---
I was just sketching when this one came out to me.  I liked the pose, and the silhouette that it makes was really strong. I decided to carry it to a finished piece.   The outfit she is wearing is really random, and for me, kind of weird. Feels a bit western. But, in the end, I think it feels good with the rest of the image, and it definitely helps the silhouette as well.  I stuck with a split-complementary color scheme to keep things simple. and wanted to focus on basic skin tones to present a warm feeling in the painting overall.
As for what I struggled with in this painting.  The background was killing me.  At first I was leaning towards a style that fit the character.  Something that fits the perspective and shaded similar the woman.  Going over this in my head, I couldn't really think of an environment that would work with the subject to create a stronger piece.  So, in the end, I decided to do something abstract, and focus on composition and color.  Something that would strengthen the main subject, but at the same time wouldn't be distracting.
---
---
Again, overall, it was and interesting piece to work on. Definitely not in my usually ball field, but it was good to stretch a little. Its also good to feel like shading is becoming second nature. I am doing better with drawing hands, but still have a long way to go. I struggled with the face a bit, so we'll seem more faces in my Weekly Sketch Reviews for sure. Speaking of, one of those should pop up soon.